Spotify is one of the world's most popular music apps. Users of Spotify can instantly stream and listen to any song on the Spotify library for as long as they like. Many of our customers use Spotify every day to listen to their favourite songs and although Spotify does use way less data than Netflix, Stan or Foxtel in an hour, it can still make up a good percentage of someone's monthly data quota, particularly for customers on some of nbn™ Satellite's smaller plans such as our Satellite 10 or Satellite 40 options. How can you manage the data Spotify uses though?
Here's 3 simple ways to manage your Spotify data
1. Turn on Data Saver
Turning on "Data Saver" will turn your music quality to low.
Step 1: Open Spotify
Step 2: Look at the top right corner and tap the cog wheel icon
Step 3: Look for the data saver option in amongst the list of headings, then tap it.
Step 4: Turn "Data Saver" on.
This setting however, will only save you data when you are on a mobile network. Once you connect to Wi-Fi, your data usage will then change to your streaming settings. See how to change this in our next tip.
2. Adjust your music quality settings
Spotify allows users to stream or download music at different levels of quality. Changing the audio quality for streaming or when downloading can help you to reduce data usage from the app. Doing this will make a big difference for customers with smaller data limits.
Data choices include:
Automatic
Low = 24 kbit/s
Normal = 96 kbit/s
High = 160 kbit/s
Very High = 320 kbit/s
As you can see there are some data savings to be made between low at 24 kbit/s and very high at 320 kbit/s.
To adjust your Spotify music quality settings:
Step 1: Open Spotify
Step 2: Look at the top right corner and tap the cog wheel
Step 3: Look for the "Music Quality" settings in amongst the list of menu items and tap it.
Step 4: Select the music quality option that you think is best for you.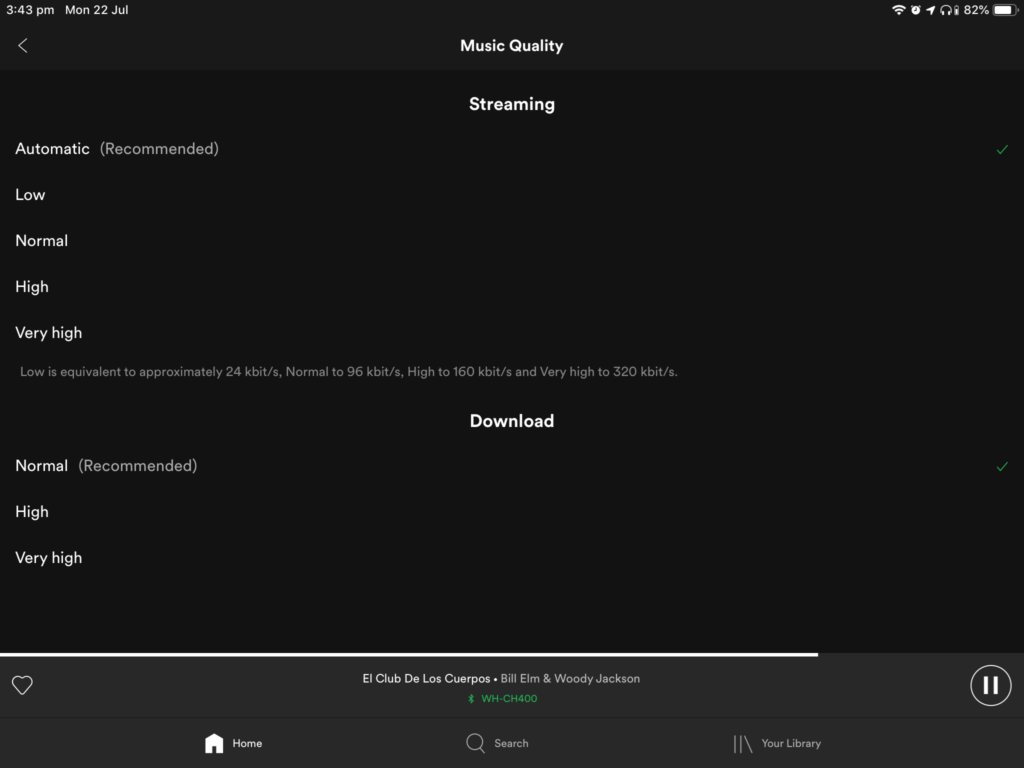 3. Download all your music
This is only available for Spotify Premium users who pay to use all the extra Spotify features not available for Spotify users for free.
Downloading the songs the first time on your account will of course cause you to use a lot of data. But the good news is, that once downloaded the songs can be listened to again and again in offline mode for as long as you like, as long as you keep paying your subscription of course! A person with Spotify Premium can download and store up to 10,000 songs on each device.
Songs are available to download in 3 different audio quality settings. Normal (96 kbit/s), High (160 kbit/s) and very high (320 kbit/s). The settings can be changed using the same method shown in the previous tip.
To download a song on Spotify:
Step 1: Open Spotify
Step 2: Find an album or song you would like to download.
Step 3: Towards the top right there will be the word "Download" tap the switch to the right and the song or Album will immediately download.